Follow this Blog
---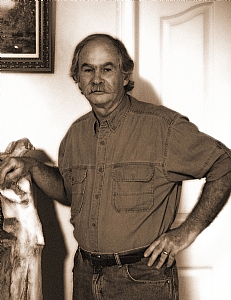 THOUGHTS AND REVELATIONS FROM A
WAS PRESENTED WITH THE TITLE OF
MASTER-PASTELIST BY THE PASTEL
SOCIETY OF AMERICA AND THE TITLE OF
DF BY THE AMERICAN WATERCOLOR SOCIETY.
ALL MY ARTICLES WILL BE CANDID THOUGHTS
CONCERNING THE ART COMMUNITY - GOOD AND BAD.
MY PURPOSE WILL PRIMARILY BE TO TEACH BEGINNING ARTISTS THE WAYS OF THIS WONDERFUL PROFESSION OF FINE ART. THEY WILL BE MY OPINIONS, AS WELL AS GUEST AUTHORS, WHICH ARE PROTECTED UNDER THE AMENDMENT FOR FREE SPEECH.
THE MOST IMPORTANT ASPECT OF THESE REVELATIONS
WILL BE THAT WHAT IS SAID WILL ALWAYS BE FROM MY ACTUAL EXPERIENCES.
AT TIMES, I WILL HAVE GUEST WRITERS CONTACT ME WITH AN INTERESTING IDEA FOR AN ARTICLE. FROM TIME TO TIME, YOU WILL ALSO SEE MANY OF THOSE AS WELL.
EVERY ONCE IN AWHILE AN ARTIST WILL LEAVE A COMMENT. OBVIOUSLY, I HAVE NO CONTROL WHAT IS SAID, HOWEVER, THEY TOO HAVE THE RIGHT TO VOICE THEIR OPINION WHICH IS COVERED UNDER THE FIRST AMENDMENT CONCERNING FREE SPEECH.
---
Archives:May 2013
Apr 2013
Mar 2013
Feb 2013
Dec 2012
Sep 2012
July 2012
June 2012
Mar 2012

IF I WAS PRESIDENT OF THE PASTEL SOCIETY OF AMERICA IN 2012
by on 5/22/2013 1:06:42 PM
Comment on this


The following article is an account of what I would have done as president of this disconcerting confusing pastel art society for the last few years. It is based on my own personal experiences with them and information told to me by other members, and even a "Board" member, of this society concerning how things are done and how important matters were handled. About five years ago, I and a few other members of this troubling society noticed a trend in all the shows they had each year which was supposed to include all the best pastels in the country. As I [...]
Read This Full Article >>
---
THE 2012 PASTEL SOCIETY OF AMERICA SHOW -THE TRADITION CONTINUES
by on 5/17/2013 5:30:11 AM
Comment on this


I just went to the PSA site to see how many of their officers won awards this year. After all, they always do! This in turn suggests "Favoritism" by many artists who were in that show and all the local spectators. I was surprised to see that the number has decreased this year. There were only four members of their "Board" who won awards. Only one (Wende Corporale), received any award that was worth winning - nice pastel too. That was The Great American Artworks Award. The other four officers won lesser awards that really don't mean that much. The point [...]
Read This Full Article >>
---
"NO PAINTING OVER TWO YEARS OLD IS ALLOWED!"
by on 5/1/2013 6:16:07 PM
Comment on this


How many times have you read these very demanding words in a fine art society prospectus. Usually they won't let you enter a painting you finished two or sometimes three years ago. According to what I was told many years ago, the main reason for this is that the particular art society show in question wants to be different and not like any other society show previous to theirs. The idea and premise of this "rule" is a noble one, however, I just wonder if it is valid as a concept that will make any annual show an exceptional exhibition. In other [...]
Read This Full Article >>
---
FUNNY COMMENT
by on 4/26/2013 5:41:58 AM
Comment on this


"i hate art" This is a comment left on my post titled "The Proper Way For An Art Show To Be Judged." I wrote a response to this in that comment on that post, but I wanted you all to see it so I placed it here as well. Here is what I said. This is a comment left on my blog. It's the strangest one yet! At first I was going to delete it because I figured that it was a negative statement made to make me feel awful about my profession. That will never happen!!!!!!!! Then, I realized how funny this [...]
Read This Full Article >>
---
THE PSA HAS A NEW PRESIDENT-PRESTIGE WILL NOW COME BACK????
by on 4/4/2013 4:17:55 PM
2 Comments


The first thing that comes to my mind after hearing the news that Rae Smith has resigned or retired from the position of president of this once prestigious pastel society is, "Wow, she actually listened to my advice." I heard from so many artists across the country that they were fed up with this woman and all the winning of awards that the PSA officers won in their very own shows. To many, this indicated favoritism! It wasn't hard to figure out that Ms. Smith just might be doing more harm to this once fine pastel art society than good. I [...]
Read This Full Article >>
---
PASTEL JOURNAL ART COMPETITION - "THE YEAR'S BEST PASTELS?"
by on 3/5/2013 1:26:37 PM
6 Comments


If you are an artist just starting out in this wonderful glorious occupation of fine art, the pastel art competition that the Pastel Journal offers each year is the one for you. I would highly reccomend entering a few of your best paintings into these shows. It will be a fantastic chance for you to get your work noticed by the fine art community. Your paintings will be seen by artists, gallery owners and prospective clients all over the United States. The reason I mentioned just beginning artists entering this show instead of well-known professional artists is that I have noticed a pattern in [...]
Read This Full Article >>
---
STANDARDS AND CRITERIA OF SOME FINE ART SOCIETIES IN AMERICA
by on 2/13/2013 12:45:28 PM
11 Comments


If you are under the impression the art societies are prestigious and quite an honor to belong to one of them, you shouldn't read this in order to preserve your naivete. However, if you have ever had a reason to doubt all the glory that seems to go along with the honor, or wondered just what the hell the disconcerting beliefs of some societies are, read this article. It just may answer some of your questions and justify your concerns in how certain events were handled within that society. The most common complaint about fine art societies today is that all [...]
Read This Full Article >>
---
"WHAT - YOU MEAN THERE'S FAVORITISM SHOWN IN ART SHOWS?"
by Artist And Guest Writer As a Favor To Bill on 2/13/2013 11:51:42 AM
4 Comments


The following post is an article written as a favor and request from my good friend Bill. I am an artist as well. It will contain thoughts and opinions which are mine, as well as Bill's thoughts as I interviewed him concerning his experiences in all the years he has show art in society shows. For years now, we all have been aware of a certain amount of politics and favoritism with the exhibiting of artwork in art society shows. Everyone else has too, but it was always that ugly truth which was never spoken about publicly. I have news for you [...]
Read This Full Article >>
---
FOR THE LAST TIME - "PASTEL PAINTINGS ARE PERMANENT!"
by on 12/9/2012 12:19:21 PM
3 Comments


If you are a pastel painter you must be aware of the fact that it is extremely difficult to sell your paintings to clients and buyers of art. Personally, I can't tell you the number of times I've heard the phrase, "Oils are more permanent than pastels, so, I can't buy one of your paintings for my wall." I'm so freaking tired of hearing that, so I am going to talk about that subject to educate all the uninformed art collectors out there who could purchase a pastel but afraid it will someday just fade away to nothing. The first thing to [...]
Read This Full Article >>
---
POLITICAL CORRECTNESS IS A GOOD THING WHEN ENTERING PAINTINGS INTO ART SHOWS
by on 9/8/2012 5:34:21 AM
2 Comments


Have you ever had something on your mind because of something some artist said, something that a fine art society did, or an incompetent show judge decision and just didn't think you should say anything? Chances are that you are politically correct! However, in this profession, that's a good thing. Nobody wants to be or think of themselves as being that way because, it is a personality trait that is associated with not being honest and saying it like it is. It's as if people call you pessimistic, narcissistic, or egotistic. However, more than not, artists are politically correct when it [...]
Read This Full Article >>
---
IS IT PLAGIARISM OR FAIR USE?
by on 9/3/2012 12:15:38 PM
3 Comments


A while back, I read a post on a blog of a pastel artist living in New Mexico who made it obvious she had a ulterior motive for writing it. It concerned "copyrights and plagiarism." The information she spoke about was not that informative simply because this subject is already known by everyone and taken for granted. Copyright laws were supposed to be the topic of this woman's article, but it wasn't - not really! Knowing the vindicative nature of this woman - she was probably out "to get some artist". She must have heard what I said about the post [...]
Read This Full Article >>
---
WEIRD COMMENTS AND RIDICULOUS HAPPENINGS FROM YEARS OF SHOWING ART
by on 7/19/2012 5:32:27 AM
Comment on this


Now that I won't be entering many fine art shows in the future, I was recently thinking about all the absurd situations and strange comments I've heard over the years pertaining to art shows. Years ago, when I first heard someone at an art society tell me something regarding how the show was judged, I just said to myself, "Well, ok, that makes sense. They must know what they are doing! I just won't worry about it anymore"! I was young and quite naive but it sounded plausible , so I just accepted everything that was told [...]
Read This Full Article >>
---
All images are copyrighted - Bill James 2013
---