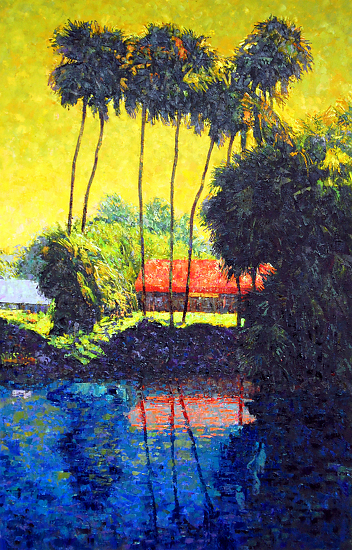 Recently, a few artists contacted me for a critique and mentioned to me that showing art now is so frustrating because of all the politics. Also, they told me that the paintings that were picked out for awards in shows they were in looked like work done by kids - there was no drawing ability! I have been thinking the same thing now for about five or six months. I thought it was just a personal belief I had on the subject of showing paintings in fine art society annuals. Their statements justified my concerns with that matter and I started to think of recent events that happened to me with art shows and one watercolor artist who was a judge for a particular show.
To me, showing paintings in art society shows is definitely not the same as it once was years ago when I first started to enter my work - it was fun! Of course, it was hard at first to be accepted. Then, once I got a few paintings in shows, I was looked at and my work was considered for some awards. Those were the innocent days when there seemed to be competent judges everywhere and no politics in site. At least I wasn't aware of any! Boy have things changed!
Several years ago, I noticed something new that was never going on in those glory days. That was the entering and even winning awards by officers in many of the society shows across the country. The Pastel Society of America is one of the larger fine art societies that allows this. Another society that thinks it's all right to allow their officers to win awards in their own show is a pastel society located in Florida. Their president is very good friends with some of the PSA officers, so naturally, she follows their lead. This was always considered to be blasphamous simply for the reason you would think - it seemed to showed favoritism. Even today, many art societies, art magzines, and other art competitions state that no members of their organizations can enter their shows, which is the way it should be. It would eliminate all the concern for favoritism that would obviously be shown to them. Today, many of the art societies seem to be saying, "screw it - we are going to allow officers of our own society into our own show so they can win some money and get some prestige." I really believe that because the Pastel Society of America allows that, many others follow their lead. They are supposed to be the premier pastel society in America, so naturally, other societies believe it's all right. I can think of five of those societies right away who have done exactly the same thing. There are probably more.
One of the worst examples of what I am talking about happened just recently in that pastel society in Florida I mentioned earlier. In this show, the president of that society was actually given the Best in Show award along with yet another award. Shame on the judge for doing that! That is unheard of. In all the years I've shown art, I have never seen that happen. That is the worst case of favoring a society president I ever heard of. It may not have been favoritism, but it looks like it - that's the point! I am told that the president of this society knows a few of the officers of the PSA and follows them religiously .The PSA set the prescedent, so naturally, this president does what they do. Because of this practice, she lacks professionalism and treats all the artists in all her shows unfairly.
This all came to my attention about five years ago when I entered a painting into an art society show that is located in Louisiana. It won a small award, which was nice. However, I then saw that the Best In Show Award went to the president of the society. This was something I hadn't seen before! As it turned out, this guy was also the Exhibition Chairman. That's another thing I have never seen. These are the people, who search for and hire the judges for each prospective show. In return, apparently the judge he selected felt that he should reward the president with this high award for getting him the assignment. Maybe he was even a friend of his - I don't know! That was the first time I ever saw that practice, and I was offended. That award should have gone to some other artist who spent his or her hard earned money to enter and ship work to that show. I emailed this president and informed him that what he did was unprofessional. The very next year when I entered his show, my entry form mysteriously disappeared - or so I was told. I have been showing art for over 45 years and no society ever loses entries - they want to make money! Apparently, I was paid back by that president for daring to tell him that he made a mistake. Wow, talk about being unprofessional and immature. Instead of realizing that it was a mistake, he decided to go after me. He obviously believed that favoritism was all right. Wouldn't it have been more fair and easier to make adjustments? It told me that his organization was political, so I never showed to them again.
It was around that time that I first noticed that for four years in a row, officers in the Pastel Society of America shows won some of the top awards. This is on record - you can look it up! No, I'm not exaggerating! One year, even the president of that society won the Best In Show Award and one of their officers won it twice over three years. Many artists have told me that this is the worst thing that can happen in any society art show! This is something I have never seen before! Surely there are many more pastel shows across the country they could enter instead of their own. A lot of societies allow their officers to enter their own show, but do not allow them to win an award. Why - because it shows that there just may have been favoritism toward the judges. They are concerned about their members and try to be fair. The point is that favoritism might not be happening, but it looks like it to all the artists who enter. The PSA obviously think it's all right to continue with this practice because they have been told several times by many artists they shouldn't do this and still, it goes on. Maybe you checked out the judges and you are all right with all this, however if it does bother you, there are many other pastel society shows out there you can enter instead.
Since that discovery, I have seen yet another two societies do the same thing - one is a pastel organization and the other is a watercolor group. The last show I saw this new "favoritism" thoery at work was just recently in a pastel society in the Southeastern part of the country. One of their officers won the Best In Show and the president won the Third Place Award. Once again this indicates favoritism. They might not think so, but it looks as if that happened. They too are probably following the lead of the PSA, who is supposed to set a good standard. I received an email from a woman who was so upset about this show, she told me that she emailed the president to complain. The president apparently was so freaked out that she couldn't even respond herself, but had a friend do it for her. As I understood it, it was explained by the person at the society that they didn't know the judge, so it couldn't possibly be favoritism - how naive! They also said that they issued a set of guidelines to the judge - therefore, he will follow them and there will be no politics. Yeah, right! Also, this woman was told "the judge was a Master Pastelist in the PSA" - as if that meant the artist was really something. Wow - to that I would have to say, "so - what does that mean." Have you seen the work of some of the Master Pastelists in the Pastel Society of America? It's not that good - or, so I have been told! That doesn't mean anything! Anyway, what this society did was not professional. Whether they don't think it was favoritism or not, it sure looks like it to all who saw that exhibition, and they shouldn't be allowing it to happen.
Seeing this latest disaster really turned me off and I was beginning to feel that my time for showing art was over. Then, comes along the recent show at a watercolor society in Louisiana. It was judged by of one the very few black watercolor artists in the country. Whoops, I should say "African American" - I wouldn't want to be thought of as a racist. Well, only if they all call me a Welsh American! Whoops, I forgot - "white people" are not supposed to use the words "they" or "you people" when talking about a black person. It's so hard to remember all the rules. God, I hate political correctness, which I'm pretty sure is why this guy wins a lot of awards! Anyway, I showed him a painting that I consider to one of my very best watercolor paintings to date. It is pictured below. It was selected by Watercolor Art Society - Houston as one of my best to be on their site with an explanation I gave on how to finish a painting. The painting was also selected by a French art magazine to be one of the images published in an article I wrote for them, which is coming out soon. They loved it! However, this guy overlooked it for any award when in fact, he used to give me Best In Show Awards because he liked my work so much. Something was not right here! The painting depicted two "African American" people at a reenactment. This judge stated earlier in a newsletter that "showing him paintings like that which depicted black people", in his words, was the "the kiss of death." Wow - sooooo dramatic! I didn't believe an artist would actually be so childish and unprofessional to feel that way, so I entered it anyway. After all, it was one of my best. What was this moron saying - only he can paint black people! Race shouldn't have even entered into it but, it did - or maybe, it was some hidden agenda. I got nothing when I was told by a few artists that I should have at least won one of the many awards offered, considering the other paintings in the show. This judge obviously has some petty jealousy issues going on here or, something else I'm not aware of! Then I remembered that this is the same guy who once had one of his relatives mail me to tell me off for asking this judge a simple question. He didn't even have the balls to do it himself. As I understand it, he always gets others to do his dirty work. God - someone has a superiority complex. For someone who copied Andrew Wyeth's technique years ago and called it his own, he really shouldn't feel that he is above all of us.
That was the last straw. I can't put up with all this political bullshit and judges who have agendas anymore. If it's not the incompetent judging, officers of art societies getting top awards in their own shows, it's some judge who has mysterious issues with some of the artists in the show. My wife did have a take on it though. She said it must be "the rites of passage" - I have arrived and I am winning too much for some people to take anymore. I don't know, but, she may be right! Then I wondered - that was probably going on to other artists when I first started showing art and I just didn't know it! Whatever the reason, that's it for me! I'm getting out and retiring from showing my art. If I ever see a show where I know that the judge is professional and not political, I will consider entering a painting. I know exactly who that minority is! Showing to a judge like that doesn't happen that often, so it looks like I will be out of the picture for awhile. It's just as well because I recently found some new interests I'd like to pursue.
Any of you out there who are artists just starting out showing your art, I would suggest waiting for awhile until all this crap goes away. For all those of you who have been doing this awhile, be careful and rethink entering certain shows until you research them. If you see that societies give their officers awards, stay away from them. Then, look to see in their show catalogs if the winners look as if kids painted them. In my mind, all the fairness that was included in art shows years ago is missing now. All that is needed for a change is a new president in those societies to regulate these matters and see that every artist who enters their shows will be treated fairly. Until then, I have only one thing to say to all those corrupt societies. F-off! For me, the thrill of showing my art has disappeared - it's not like it once was all those years ago! At that time, all the paintings looked like professionals painted them and all the top winners were not officers in the society whose work was way below par. Back in the day, all the award winners actually deserved them!